As one of the most competitive modern industries, marketing never slows down. Whether you work in digital (SEO) marketing, offline marketing, inbound marketing, content marketing, B2B marketing, or any other variation, you should have one clear goal: growth.
This industry prioritizes consistency, innovation, and improvement. As a job seeker, you must demonstrate excellent creativity, problem-solving, communication, interpersonal, adaptability, attention-to-detail, and time management skills. At the core of it all, you must have a growth mindset.
Today, marketing recruiters and managers have become adept at determining whether candidates have this "growth mindset" we just talked about. In fact, figuring this out is as easy as taking a quick look at your resume. Whether you're looking for an entry-level, professional resume writing services, cover letter writing service,linkedin profile writing service,executive marketing job,or government resume writing service, ensure that you present yourself in the best possible light. Your resume should make you appear qualified, committed, and creative.
This article will offer a closer look at how to write an impressive marketing resume that makes a big impression on recruiters and managers. The right resume can increase your chances of landing an interview. Let's find out how you can get there. Continue reading!
1. Select the Right Template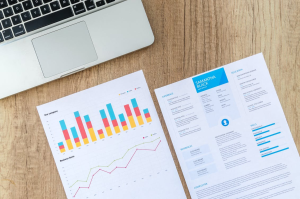 First things first: the template. The content included in your resume will ultimately matter the most. However, this doesn't mean that the design isn't important. Think of it like your skeleton. It provides support to your body, enabling it to perform essential tasks. The right template acts similarly: it provides structure to the resume.
Marketing managers and recruiters will be able to screen your resume more easily. They'll also appreciate its aesthetic appeal. Believe it or not, visual components matter a lot. The font, graphics, and formatting will add balance to your resume, making it more readable and palatable. You can choose between three types of resumes:
Chronological: The most popular and effective type of resume used today. This focuses heavily on the job seeker's work history. Your experience will be highlighted first and foremost in chronological order. Why is this done? Well, it helps recruiters understand which roles you've filled most recently. If you've worked at reputable companies, you'll make a great impression on the recruiters and managers. This is an excellent way to showcase your professional progression. If you don't have any significant gaps between your previous jobs, use the chronological resume style.
Functional:While popular in the 80s and 90s, the functional resume style has lost its touch today. This resume is skill-focused, not experience-focused. Your skills will be highlighted first and foremost. Functional resumes should only be used by individuals who have big gaps in their work history. This is a better option if you're changing industries since you don't have much "experience" to show in the new industry. Be strategic. Only use this format if the chronological style will do more harm than good.
Combination:The combination (hybrid) resume combines both the functional and chronological resume styles. It highlights the candidate's work experience and skills equally.
Marketing headhunters prefer chronological resumes. If your work experience isn't as impressive, you may use a combination resume. However, avoid using the functional resume. It should be reserved for extreme industry changes or poor experience. This mostly isn't the case. While your experience may not be great, it's probably not that bad. If it is, make do with the functional style.
Experts still recommend finding a way to continue using the chronological style. The Resume Store has a team of experienced, qualified, skilled, and industry-aware resume experts on board. Over the years, they've worked on thousands of chronological marketing resumes for novices and seasoned professionals.
They're adept at using the chronological style in the most flattering way possible. Even if your experience isn't up to par, they'll use the chronological style and make you look hireable! Your application should appease marketing managers and recruiters. By keeping their demands and preferences in mind, we create impressive resumes that make a splash and increase your chances of landing an interview.
Recommended Read: Key Marketing Elements of the Most Powerful CEO Resumes
2. Showcase the Right Skills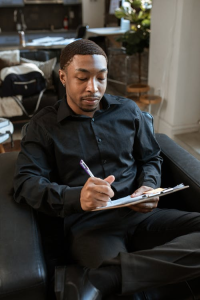 This is imperative. Based on the transferable skills required for your company, make sure you possess and showcase the relevant technical and software skills. Here's what we mean by this!
Let's say you're applying for the position of marketing manager. It goes without saying that you must possess strong communication skills. Make sure you highlight your proficiency in SEO/SEM and software like Screaming Frog and Netpeak Spider.
If your job requires you to possess strong writing skills, you must be adept at using SEMRush, SEO Power Suite, Majestic, and Ahrefs. For sales, Google Drive, Dropbox, SkyDrive, and SugarSync are important software. For storytelling, you must be a pro at using WordPress, Wix, and Weebly.
Take some time to figure out which skills your job requires you to possess. Dig deeper and develop mastery in the relevant software. You should highlight this on your resume! Make sure you do it the right way. If you're applying for a position that requires you to possess excellent SEO, CRO, and data analysis skills, list them like this:
SEO (increased organic traffic by 82% in 1 year)
CRO (increased sign-up rates by 37%)
Adept at using Google Analytics, Kissmetrics, and HubSpot
This is an excellent approach. Not only does it show which skills you possess, but it also offers a closer look at the feats you've accomplished.
Recommended Read: Why Should You Update Your Resume?
3. Scratch Irrelevant Information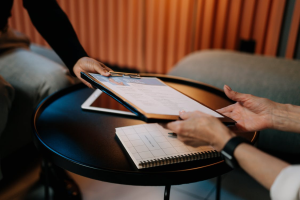 Avoid adding irrelevant information to your resume. People often fill their resumes with "fluff" like hobbies, volunteer work, etc. There's nothing wrong with highlighting this information as long as it's a) done in moderation and b) reserved for the end of your resume.
We recommend highlighting qualifications you can back up with proof. Showcase publications, awards, courses taken, conference participation, certificates, and professional achievements. Avoid going overboard! Read your resume multiple times once you've wrapped it up. In fact, have family and friends read it. Ask them if something looks off.
People often struggle to identify what's underdone or overdone in their resumes since they write them from scratch. They spend so much time working on it that they can't determine whether we've retained a nice balance or not. Showing your resume to other people is a great way to get honest, candid, unrestrained feedback.
Use constructive criticism intelligently. It's also smart to share your marketing resume with your co-workers. Collect as much feedback as possible. It'll help you choose the right direction.
4. Write a Cover Letter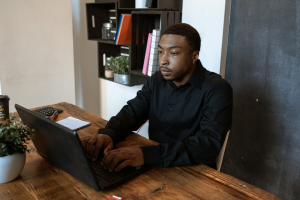 A cover letter isn't just important; it's imperative. This document shows marketing managers that you're willing to put in the work for their company. Today, some of the most esteemed marketing companies are looking for team players who go the extra mile. You shouldn't be complacent. Instead, you should be driven, committed, dedicated, and focused.
Writing a cover letter is an excellent way to prove that you aren't hesitant to put in the extra legwork when needed. It's also important to note that resumes are factual. They lack a personal touch. The cover letter fills this lack. It showcases your strengths and personality. It helps recruiters understand why you're the right fit for their company.
Make sure you spend ample time going over the company's websites. Read their newsletter. Understand their mission statement, philosophy, and goals. This will help you determine which skills they value in new hires. As you write your cover letter, keep the company's requirements and preferences in mind.
Your cover letter should make them feel compelled to grant you an interview. Show that you've done your research and that you've done it well! Marketing is all about creativity and attention to detail. Prove that you work assiduously. You'll make a great first impression by covering all the bases and using this insight in your favor.
Writing a cover letter is your golden ticket to building clear connections between your knowledge, abilities, experience, and the specific requirements of your to-be employer. Skipping this essential document indicates laxity and non-seriousness. You want to prove that you're willing to do what it takes to get hired. Nothing says "I'm all in" like a well-written cover letter.
5. Edit, Edit, Edit!
Editing your resume is non-negotiable. Your marketing resume shouldn't include grammar, punctuation, spelling, or syntax errors. Your vocabulary should be strong. You should come off as a confident and creative team player. Make sure you proofread and edit your resume for a couple of days. If you're not confident in your editing skills, request a team of professional resume writers to take the reins.
The Resume Store has extensive experience writing stellar marketing resumes for entry-level, professional, and executive positions. They go the extra mile to write resumes that impress recruiters and increase candidates' chances of landing an interview.
Recommended Read: The Benefits of Having a LinkedIn Profile and Personal Website
6. Hire Professionals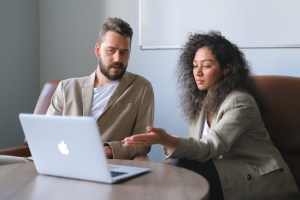 The marketing industry is particularly competitive. Employers have high demands, which can be tricky to meet. More often than not, it's a matter of presenting your experience, qualifications, and skills the right way.
The Resume Store team collectively plans and structures all resumes after intensive research. They look into your sub-industry, company, and position to draft an excellent resume that checks off all the boxes. Our team covers the following marketing positions:
Chief Marketing Officer (CMO)
Marketing Manager
Product Marketing Manager
Service Marketing Manager
Creative Director
Communications Manager
Content Marketing Specialist
Marketing Assistant
Marketing Coordinator
Marketing Associate
Marketing Specialist
Marketing Representative
Marketing Intern
Event Marketing Manager
Entry-Level Marketing Assistant
Entry-Level Sales Marketing Assistant
Public Relations (PR) Specialist
Brand Ambassador
And more! Whether you're applying to an entry-level or senior position, they'll take the reins and deliver a resume that maximizes your chances of landing an interview.
Can I Write a Resume Myself?
Absolutely. However, this isn't recommended. Considering how fickle an industry marketing is, marketing resumes require a certain level of expertise and experience. If you lack this, your resume will not be well-structured and well-written. Self-written resumes have a 40% less chance of being given another look. Candidates struggle to land an interview.
The Resume Store leverages insight, skills, and expertise to write a hyper-specific resume for you. Once they're done, you can rest assured that you'll get closer to getting your dream job. Take a closer look at their sample resumes. When you're ready, hire their resume writers.
Whether you're looking for marketing LinkedIn profile optimization services, entry-level marketing resume writing services, or professional resume writing services,senior-level marketing,cover letter writing service, they're the right people to contact. You can also browse through their reviews for more clarity.
Struggling to get a job? Written by The Resume Store founder Arnie Sherr, The Get a Job Manual is your golden ticket to understanding how to write an excellent resume and cover letter. The book can also help you understand the rules of the road. Buy now!