The Resume Store
250 Rosery Rd NW – Largo, Florida 33770: 727.219.0177 • Fax: 727.351.4182
Terms & Conditions
PROMISE OF SATISFACTION: By purchasing products and services, it is understood that "THE RESUME STORE" promises SATISFACTION only concerning resumes and cover letters that conform to current and changing industry demands and requirements and by those requirements are deemed customary and usual. The discovery of imperfections, mistakes, and changes after reproduction is the responsibility of respective clients/customers. Upon completion of resume(s) and cover letter(s), "THE RESUME STORE" requires and maintains copies of all correspondence, letters, e-mails, etc., stating or alluding to said satisfaction. It is further agreed, clients/customers that submit and demand the inclusion of alterations, changes, modifications, and content contrary to HR and Recruitment industry standards and rules for resumes and cover letters knowingly forfeit "THE RESUME STORE'S PROMISE OF SATISFACTION." "THE RESUME STORE" will not endorse or support any content, formatting, and other client/customer demands that it feels are detrimental to the client/customer's employment objectives. It is further understood that clients/customers of "THE RESUME STORE" retain our services for the honorable purpose of seeking interviews and, if counseling is purchased, acquiring gainful employment.
PROMISE OF SATISFACTION does not apply to employment counseling services that, whether invoiced, agreed verbally, or provided at no charge, are in addition to traditional in-person and telephone counseling sessions, internet researching, forwarding of live IT job site links, and job postings, and all other services separate from writing resumes and cover letters.
Clients/customers purchasing coaching/counseling services agree not to hold "THE RESUME STORE," its ownership, employees, contractors/associates responsible for results therefrom, to any degree, that do not meet client/customer expectations, anticipations, or those of others with whom they may consult or corroborate. Furthermore, cover letters and resumes do not get or guarantee employment; their sole purpose is to attract interview invitations. Finally, due to the intricacies of the job search, "THE RESUME STORE" does not guarantee a result, only the belief that its up-to-date applications and methodology improve a candidate's chances of acquiring interviews.
Since "THE RESUME STORE" promises TOTAL SATISFACTION, all requests to alter, change, or modify resume(s) and cover letter(s) requested after 180 days following customer approval and acceptance may incur additional charges at the discretion of THE RESUME STORE. Conversely, requests to alter, change, or modify resume(s) and cover letter(s) made after customer approval/acceptance but before 180 days are free.
NO REFUND POLICY: Due to the nature of "THE RESUME STORE'S" products and services, it adheres to a strict "no refund" policy." Furthermore, "THE RESUME STORE" makes no promises, written or inferred, of refunds in any context for any and all of its services and products. However, it places no time limit on changing, modifying, or adjusting cover letters and resumes until clients/customers indicate total satisfaction.
RIGHT OF USE: THE RESUME STORE retains ownership rights concerning all generic content on all resumes and cover letters created, written, and produced for clients/customers. Information about clients/customers (i.e., employment history, educational background, awards and accomplishments, and all other declarations written, supplied, stated, heard, and acquired in the processes thereof) shall be held in the strictest of privacy [see PRIVACY POLICY] and shall remain the property of our clients/customers.  
PRIVACY POLICY: As a resume and career counseling service, it is "THE RESUME STORE'S" promise and legal obligation to protect all personal and sensitive information so entrusted for creating, developing, and providing specialized job search products and services. Such information may include contact information (addresses, phone numbers, and e-mail addresses), employment history, educational background, awards, accomplishments, and all other declarations written, supplied, stated, heard, and acquired in the processes thereof. "THE RESUME STORE" promises its employees, agents, and associates will not share or compromise personal information with any person, organization, company, or entity unless authorized by our client(s)/customer(s) in writing, except as may be required by law in the form of duly processed "court orders."
PAYMENT: Payment in full and in advance is required via Visa, MasterCard, Amex, Discover, PayPal Credit, etc.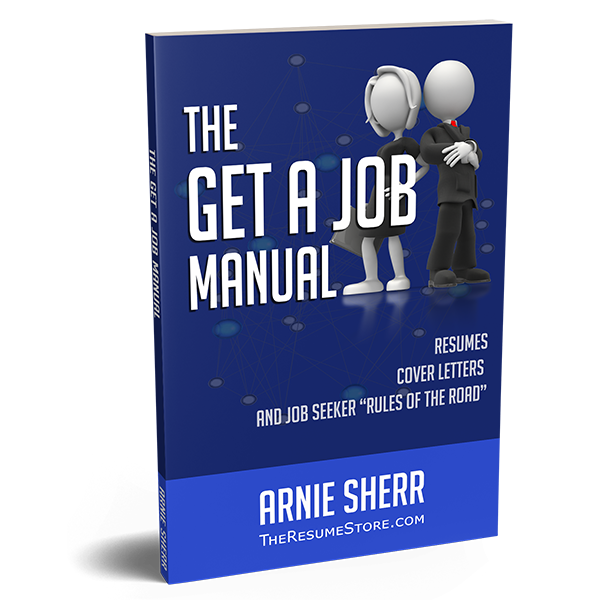 The Get-A-Job Manual: Resumes, Cover Letters, and Job Seeker "Rules of the Road"
The Resume Store's Methodology.One that supports our commitment to help those seeking new or better jobs receive higher numbers of interview invitations and to avoid the multitude of interview process pitfalls. Many inspirational writings to dispel interview misconceptions and to elevate applicants to higher levels of confidence.Arnie, as Vice President of Sales for an industry-leading national toy distributor out of New Jersey for 20 of 27 years, has reviewed thousands of resumes and interviewed hundreds of candidates for a variety of employment opportunities.